Tulalip Resort Casino
Tulalip Resort Casino is an exceptional place for relaxation and entertainment. Every guest who visited this leisure center has his unique memorable things to admire like hotel interior elegancy, the newest gambling machines or providing events featuring Indian cultire traditions and pecularities.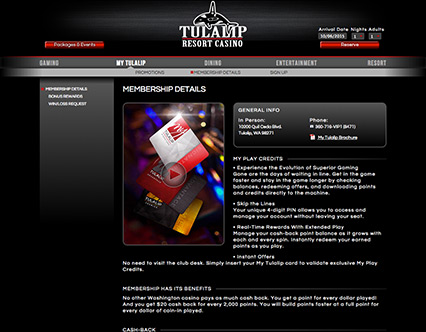 Site:
tulalipresortcasino.com
Casino games:
slots, three card poker, roulette, blackjack, spanish 21, craps
Entertainment:
Canoes Cabaret, Orca Ballroom, Tulalip Amphitheatre, Taste of Tulalip, Hibulb Cultural Central
Amenities:
The Oasis Pool, T SPA
Book now
Tulalip was founded in 2004 by Indian Tulalip Tribes of Washington. Located in Quil Ceda Village, Washington it was originally named as Tulalip Casino. After renovation in 2008 the hotel was built and added to Casino that generated new name of Tulalip Resort Casino. Today it includes huge hotel with more than 350 rooms, SPA sectors, 7 restaurants and nearly 200 square feet of gaming space.
Gaming Area
One of the richest slots collection in Washington is gathered in Tulalip Casino. Its number varies around 2,200 slot machines of different scenes and promotions (compare with Resort Casino Hotel), new slots are available every month. Among other advantages are high cash-back and My Play Credits Tulalip Card created for more players` comfort.
Personal account with pin code allows to make any balance, credits and points manipulations without checking My Tulalip club desk. Just insert the card enter your pin and don`t waste time for anything except the game.
To demonstrate special attention towards the customer Tulalip set such event as Birthday Slot Tournaments. You can delight you guests by making a slot birthday party with Tulalip Resort Casino. The main condition for having the event lead is to get 500 My Tulalip Club points during one month before birthday date and mark the date on My Tulalip Desk. Fabulous holiday for your friends ( from ten and more) is ready. To book an event and check the timetable call telephone numbers given at official Tulalip Resort Casino website which also contains slot calendar with gaming events written down by date.
Tulalip Resort Casino suggests wide range of table games for players of different skill levels. Among them three card poker, Roulette, Blackjack, Spanish 21, Craps and many others. If you are beginner or need to refresh the rules check how to play website section and download rules in PDF.
To visit Poker and Bingo events see same-named calendars and study website for more promotions details.
Tulalip Resort Casino entertainment sector
Even though number of games exceeds number of entertaining events in quantity it doesn`t overtop them in quality as Tulalip events are widely known and appreciate by the audience. Tulalip Canoes Cabaret is one of the leisure halls where lots of events of different kinds are lead. There is a schedule of regular performances run in this hall as well uncommon concerts and events also take place there. Canoes Cabaret events haven`t got some certain topic. It can be rock festive and classical concert at the same time.
Orca Ballroom became famous for frequent comedy shows acted. It`s a large hall with more than 1000 seats. Both Canoes Cabaret and Orca Ballroom has galleries on the Internet where every interested guest can see photos from previous events.
Tulalip Amphitheatre is a summer leisure venue with 3000 seats. It has clear sight line and a big parking.
But the most fascinating part of Tulalip Resort Casino is definitely its Hibulb Cultural Centre which represents a Tulalip culture museum and highlights peculiarities of the tribe`s lifestyle, history, traditions and worldview doctrines.
Tulalip cultural centre involves researching libraries, archeological laboratories and other scientific objects based on magnificent landscapes of Tulalip natural territories.
Tulalip Dining Zone
Tulalip Resort Casino provides a number of sumptuous restaurants of different designs tastes orientations.
Tulalip Bay pleases the guest with sophisticated collection of wines in awarded wine room. At this place it`s possible not just to taste the culinary artistry creations but to see their production at open kitchen. Interior and decoration items designed by famous architectures enhance the pleasure of staying in this gorgeous venue.
Blackfish relates to Pacific Northwest cuisine and uses traditional tribal methods and techniques in creation of its culinary masterpieces. Lobsters, tender calamari, prawns under fine sauces for appetizers, steaks, chicken pies, seared scallops for main menu and variety of deserts and drinks are presented in Blackfish Menu which can be checked at dining section of Tulalip Resort.
Cedar`s Cafe, The Draft, Journey East, Eagles Buffet, Carvery and Killer Coffee are another worthy dining halls to visit and enjoy in breaks between gaming events.
Tulalip Accomodation Info
Tulalip Resort offers more than 350 rooms which stand out by their combination of modern amenities and Indian design elements. Among them five specialty suites, eighteen two room suites. The rooms are supplied with floor-to-ceiling windows, adjustable showers, 47 inch flat screen and many other conveniences. In fact, minimum size guest room is 500 square feet. Every room has 24 hour room service afforded.
All information considering guest rooms, suites, packages and specials is in open access at official website. Check it, make your choice and go towards an incredible world of games, leisure and comfort.