Resorts Hotel Casino review
Resorts Casino Hotel located in Atlantic City, New Jersey state became the first legal land-based casino in the region when it was founded in 1978. Designed in the Twenties conception it includes two hotel towers with nearly 940 number of rooms, 100 000 square feet casino, recognizable restaurants and attractions. DGMB Casinos is Resorts Casino Hotel owner and operating license holder.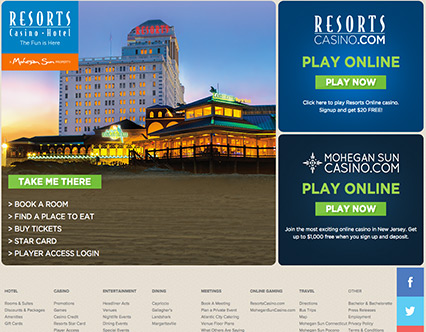 Casino games:
slots, baccarat, blackjack, craps, three card poker, roulette
Entertainment:
Brush Painting Parties, Superstar Theatre
Book now
Feel free to read Rio All Suite Hotel too. Hotels-Casino.com presents the best reviews for gamblers.
Gaming Catalog
The Casino Hotel combines fascinating gambling machines and table games of all kinds. Constantly renewed 2500 slot collection counts more than 400 newest slots like Elen, Plinko, Goldfish and others available for playing 24/7.
It was honored "Best Casino for Video Slots", "Luckiest Casino" and other awards.
Atlantic Casino table games are presented in classical Poker sets, Roulette, Blackjack, Craps. Total number of table games offered is about 10 with 52 card deck Criss Cross Poker.
Also, the site of the casino provides online playing option with assistant live chart, skype, E-mail support.
Entertainment Features
Among Resort Casino Hotel leisure venues Superstar Theatre stands out as a scene for Broadway shows, spellbinding vocal, dancing and alternative performances.
One Bar Lounge synthesizes mix of unique cocktails menu with natural herbs, fruits and flavors and Dj entertainment.
Margaritaville is a restaurant with outdoors deck, live entertainment night services and splendid bar of exclusive drinks. Giant cocktail blender makes its interior special and thematic while fresh ocean breeze creates lovely romantic atmosphere.
Among another Atlantic Resort`s bars are Cielo Wine Bar, LandShark Bar& Grill, 5 o`clock Somewhere. Except of delicious food and drinks every Bar has certain specials events such as LandShark Bar& Grill Game Day Specials, Bar One Football Specials, Brush Painting Parties at Cielo Wine Bar.
Dining Services
Some of Fine Dining establishments were mentioned at Entertainment section above while Eastwind and Gallagher`s Steak House complete the list.
Eastwind is a beloved place for many Chinese cuisine fans as it offers variable menu of noodle soups, woks, rice and noodles. It has 2015 Certificate of Excellence and online reservation possibility.
Gallagher`s Steak House is a restaurant with a long history as it was the first to suggest dining services in the Strip. Whether you are tasting shrimp or lump crab cocktails or Colorado Lamb Chops main course both restaurant`s cuisine and atmosphere definitely glad the customer. Quick Bites Food section includes five versatile cafes. Among them Dunkin Donuts cafe which belongs to international chain founded in 1950.
Atlantic City Soup Man established in 1984 offers delicatessen soup menu from legendary "Al" Yeganhen. Unique combinations if ingredients, spices and additives make you get real masterpieces in your plate.
Ruby`s Dinner cafe projected in the Fortieth theme grants the client coisy American dinner and pleasant home atmosphere.
To taste hot pizza to your unique preferences visit Famiglia Pizza while in Haagen- dazs get the most natural and yummy ice cream ever made.
Atlantic Ocean Dream Stay
Atlantic Resort Hotel provides rooms and suites packages of different comfort levels, prices and services.
Rendezvous Tower guests stay at Premier King, Premier Two Queens or Executive Suite and enjoy voice, mail, free Wi-Fi, refrigerator and other amenities.
Ocean Tower has Atlantic ocean view and offers 480 rooms. Ocean Tower guests are suggested to use indoor and outdoor swimming pool, Dining level, attain fitness club and SPA centre.
Atlantic City Shopping includes a complex of stores where variable goods are available. Sunglass Gallery, Jersey Devil Surf Shop, Michales and other stores afford the guest to buy a piece of memories of Atlantic Resort staying.
Despite of large entertainment variety hotel guests can go sightseeing around beautiful Atlantic city and visit its most famous attractions like Atlantic City Aquarium, Absecon Lighthouse, Atlantic City Beach and Boardwalk.