Rio All Suite Hotel Casino
Well, Rio All Suites Hotel Casino is the first all suite complex in Las Vegas. The fact of being a gambling city heart with 25 year history attracts interested people for most of which time spent at Rio All Suite Hotel and Casino becomes the finest vacation.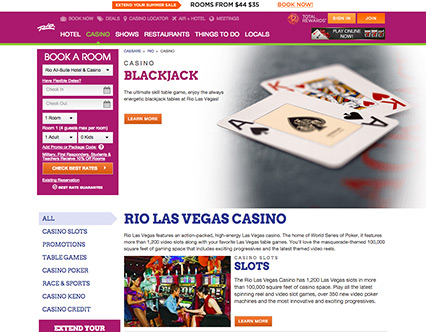 Casino games:
slots, poker, keno, table games
Entertainment:
VooDoo Beach, Rio Locals, Las Vegas Golf, RIO SPA & SALON,
Amenities:
Free Wi-Fi, Pool, Free parking, Air-conditioned, Laundry service
Book now
Belonged to Caesars Entertainment Rio All Suite Resort was established in January 1990 in Las Vegas, Nevada. Inspired by Brazil it got its name from Rio de Janeiro. Main resort`s design conception is framed in Brazilian theme. It provides huge land-based casino with 120 000 square feet gaming space and latest industry novelties. This gaming paradise along with cozy hotel rooms, refined cuisine, unforgettable events make Rio All Suite Hotel and Casino desirable place to visit like Hard Rock Hotel. Feel free to read about other hotels at the site.
Gaming Territory
It`s advisable to start description of Rio Casino from its calling card - the Poker section. The most reputable Poker event The World Series of Poker is lead in Rio Casino Since 2005. 24 hours a day 14 poker tables are available as well as poker tournaments. It affords poker limits for all level players with Certified World Series of Poker Dealers. For more details check Caesars Palace Poker Room and plunge into spectacular non-stop event.
Rio Casino gaming range is not limited by Poker. 1 200 slot machines including 350 video poker are located on 100 000 square feet space.
With the most popular and exciting table games one never get bored on the floor. Baccart, Blackjack, Roulette, Craps, Ultimate Texas Holdtem, EZ Baccart, Mississippi Stud and some sorts of Poker ensures a great experience for every player.
Race&Sports Book is another beloved feature of Casino guests. Bet your preferred team or horse and play Keno with Race&Sports Book.
The Casino Hotel grants promotion cards for customers. Nevada and New Jersey World Series of Poker (WSOP) promotions provides 100% first deposit bonus which equals up to $400.
Fuel Rewards Program allows its member to pay less for fuel by getting 50c/gal per month.
With Total Rewards Visa one can acquire ×5 credits for every single dollar spent at Total Rewards Casinos and Resorts.
Entertainment area
Rio All Suites Hotel and Casino arranges special entertainment program for guests which can check full event calendar and choose the most eligible one.
Magic Shows of Pen and Teller are mix of humor and mysterious tricks. Two extravagant but still funny magicians playing with danger is a base for one of the most long-lasting programs in Las Vegas.
Rio Vegas Adult shows are associated with hot beautiful girls, driving melodies and flirt. Chippendales male dancers` team is able to excite female audience of any age and status. While X Rocks topless revues serve comedian performances with perfect sexy girls.
The most thematic event is Masquerade Bar situated in Masquerade Village. It`s an ideal place for night time entertainment and for new intrigue meetings.
Apart from abovementioned activities there are lots of things to do in Rio All Suites Resort. VooDoo Beach Pool, Rio SPA& Salon, Las Vegas Golf are available for customer`s delight. To make memorable purchases go Rio Las Vegas Shopping. iBar, Flirt Lounge, VooDoo Rooftop Nightclub and Launge are to clubers` services as well.
Rio Dining Services
In Rio All Suite Resort restaurants` class fully corresponds its entertainment and gaming sections as they are splendid and superb. The guest can have a quick meal at quick bites cafe like Starbucks, BK Whopper Bar, Sports Deli or visit casual cafeteria like Pho Da Nang Vietnamese Kitchen, Royal India Bistro, All American Bar and Grill, Kj Dim Sum And Seafood, Hash House A Go Go. In Wine Cellar and Tasting Room nearly 100 wine sorts are offered to be tasted.
Speaking about Village Seafood Buffet, it is specialized only on marine food while Carnival World Buffet suggests daily menu of more than 300 items. By the way, to taste exclusive seafood dishes, great steaks` variety or Italian food from chef Steve Martorano visit Rio upscale restaurants Buzios Seafood Restaurant, Voodoo Steakhouse, Martorano`s.
Hotel Suites
Rio Las Vegas hotel offers a huge rooms selection classified by size, view, design and many other factors. There are sixteen suite types that can be selected by the most pretentious guest. Luxury Classic king room or Classic Two Queens with two beds impresses by its mountain view, huge windows and other services.
Suites names comes from Brazilian thematic and describes their interior in two words as Rio Deluxe Masquerade Suite streches for 1 500 square feet designed in bright festive colors with is very convenient for parties.
To book a room in advance check Rio All Suite Resort website, fill in the book form stating preferable criteria.