The Palazzo Resort Hotel & Casino – Las Vegas
Visit 50-story ecological Palazzo Resort Hotel Casino – Las Vegas luxurious place to stay, not far from Mirage casino hotel. There are business, game, entertaining and fitness centers. Each detail of the hotel will amaze and make you stop to look thoroughly. It's placed in the heart of Vegas, on the wonderful Strip Boulevard. It consists of 3,066 suites, 7 outdoor swimming pools. It is really quite terrific hotel where celebrities are frequent visitors. In the shop centre you can find over 60 brands.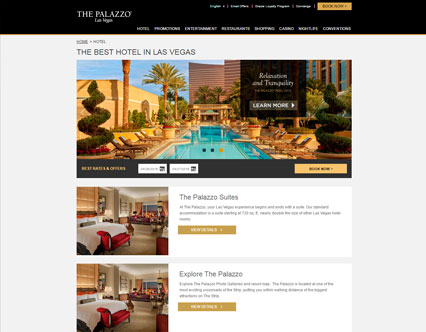 Site:
http://www.palazzo.com/
Casino games:
slot machines, table games, poker tournaments
Entertainment:
celebrity shows
Amenities:
heated bath, spa, jakuzzi, swimming pool
Book now
Primary interest in the hotels usually is the Casino. As Palazzo Resort Hotel is a fantabulous five star spot, the casino might be designed in a catchy way that will attract more gamblers and newcomers.
Main Point Of The Palazzo Hotel And Casino, Las Vegas
A wide abundance of gaming tables, an enormous quantity of slot machines, poker tournaments etc all these draws to try luck. More than 138 games are proposed and the kind-hearted stuff will teach how to play. Baccarat, Poker, progressive Jackpots and others are available to guests. LAVO Casino Club is the place for VIP persons, where Italian food, cocktails are guaranteed.
Don't Worry – Relax
You can choose between 4 heated baths, Spa relax, Jacuzzi, wellness treatments. Fans of sunbathing and swimming won't be bored in Palazzo Las Vegas – pool is offered to visitors. If you are inclined to stay in the hotel, different shows both entertaining and comical are proposed. Moreover sometimes hotel invite celebrities, so you have an opportunity to see a star and relax with friends to the favorite music and songs.
Palazzo's Appetite
Food during the day is quite important thing. Have you heard about Mario Batali, Emeril Lagasse or Thomas Keller? If no, they are outstanding chefs and they are ready to surprise your stomachs. In Palazzo Las Vegas restaurants with different cuisines are available:
B&B Restaurante – Italian cuisine, elegant design;
Buddy B'S Restaurante – American-Italian cuisine, marvelous desserts and baker's things;
Canaletto – Italian cuisine with original recipes;
Bouchon – French cuisine, dishes with season products;
CUT – fully American cuisine, gained 3 rewards;
Grimaldi's – New-York pizza;
Hong Kong Cafe – one of Palazzo hotel restaurants with Asian cuisine, and greeting atmosphere;
Lobster Me – for the fans of lobster, different variants to eat it;
SuchiSamba – Japanese and Brazilian cuisine, huge screens and catchy atmosphere.
Cheap & Chic
As it was mentioned there are 3,066 suites, and all of them are divided into 7 types:
Luxury Suite maintains 720 sq.foot and king bed, 17-inch LED TV, safe etc;
Bella Suite – has the same amenities as above containing 2 queen beds;
Fortuna Suite – 940 sq.feet homey area, 20-inch LED TV and media room;
Siena Suite – 1,280 sq.foot lounge zone, dining room;
Lago Suite – 1,943 square feet place with dining area overlooking Strip;
Lago Media Suite – 1,943 sq.feet, one of The Palazzo sutes, Las Vegas offering 42-inch LED TV, pool and massage tables, media room;
Lago two bedroom suite –also 1,943 square feet are complemented with 2 baths and bedrooms;
Prestige can be found at the 23rd storey, where breakfast and morning cocktails served, on Friday and Saturday wine days and piano entertainment are offered. Visit it from 7 a.m. –9 p.m.
There are discounts and special offerings or complex sets, for example Bed and breakfast in any of Palazzo rooms, Las Vegas, or sing up and gain 25%, book early and save (book 60 days beforehand and achieve 20% etc.
It is quite pleasant and chic place. Not only are concerts and shows presented, but you also can find rock climbing, Fitness exercising, shopping or relaxing nearby one of the seventh swimming pools.
Each room contains free Wi-Fi, spacious area, TV. To book the suite you should pay 100%, sure there are discount days and minimum price is 150 dollars per night without any fees. Palazzo guarantees you the rest without problems.