Mirage Casino Hotel
Visit terrific Mirage Casino Hotel was founded in 1989 in Nevada, Las Vegas. This elegant tropical island is situated exactly in the middle of the city. It's gigantic building with 3, 044 rooms rounded by tropical forest and interesting animals. The main sight is a huge volcano that erupts once per hour up to midnight. The great advantage is that hotel is located in the central part of boulevard Strip.
Beside the hotel you can see the famous Caesars Palace and free tram will bring you to Treasure Island. To find out what is offered on the territory of the Mirage hotel and casino in Las Vegas, read the information below.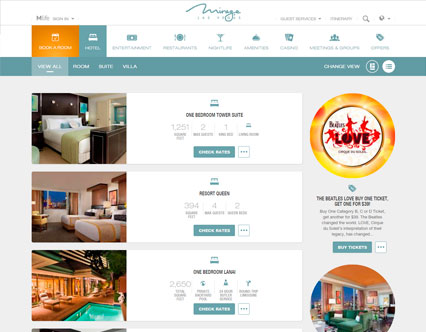 Site:
https://www.mirage.com/en.html
Casino games:
slots, table games, race and sports book
Entertainment:
bars, theater, night clubs
Book now
Ball Of Fortune
100,000 sq.f. – that is the size of a huge gaming area, which is packed with slot machines, hundreds of gaming tables and an enormous hall with 150 TVs where the race and sports booking are shown. Luxurious lounge was invented especially for gamblers, who took the pack of money and inclined to break the bank of Mirage Casino – Las Vegas resort offers enormous possibilities for players.
What To Visit First?
Cirque du Soleil is the leading entertainment which is based on Beatles history called "Love". Tarry Fator, a person who won America's Got Talent, holds the theater here and there you can see Lewis Black, Jay Leno and others.
As you know Las Vegas maintains a huge abundance of comedy shows and amazing performances. There you will see George Lopez, Sebastian Maniscalco, Terry Fator and lots of other famous and funny comics performing on stage of Mirage hotel and casino, Las Vegas.
If you'd like to dance, drink something or just chill out, pay attention to following clubs:
1 Oak contains 16,000 square foot dance floor nearby the casino and has mysterious design; Rhumbar is a fantabulous place where various cocktails are served;
The Sports Bar is opened 24/7 and if race and sports booking are your chink in the armor, 85 HD screen might blow you away;
The Center Of It All open up to 5 a.m. and ready to impress you with original cocktails;
Atrium is the wide forest area in Mirage casino and hotel, where you can walk and ponder over.
Revolution Ultra Lounge maintains the Beatles-themed show, and the performer will be outstanding Cirque du Soleil seating 400 people.
"Bare" is a topless zone with a big pool for 10-40$.
Find the dauphins in the Secret Garden, they should really impress you.
Taste The Paradise
The resort is full of unique and unforgettable places to have a meal or just drink tea, coffee. The next dining places are presented on the territory of the hotel, but of course more of them you can find on the official site:
Fin is an ideal place for family serving Asian food, calm atmosphere and delicious dishes won't leave anybody cold;
Pantry is one the Mirage Las Vegas restaurants, which serve 24/7 breakfast - there you can enjoy adorable pancakes, omelets etc during the day, even at night. Lunch and Dinner are also offered;
LVB Burgers & Bar is a place for burgerlovers, moreover there are exclusive milkshakes; California Pizza Kitchen offers yummy pasta, awesome pizza choice;
Paradise Cafe has a paradise proposition, e.g. having breakfast somewhere near luxurious pool right on the underwater chair, but comfortable seats and picturesque view over waterfall are also proposed;
Roasted Bean is an adorable place where you can have a quick bite and stop for a minute with fantastic coffee.
For Admirers Of Pure Comfort
The Mirage hotel rooms are represented by a wide choice of suites (over 12 various types) and all of them are provided with max amenities:
Resort king – 394 sq.foot luxury zone with LED TV etc;
Resort Queen – 394 square foot, LED TV, working desk etc;
Resort Tower king – 394 square foot with exclusive private elevator;
Mirage suite – 812 square foot with two different full baths;
One bedroom Tower suite – 1,251 square foot with dining and living rooms, mini bar, and 1 king bed;
Two bedroom Tower suite – 1,628 square foot are overlooking marvelous view on Strip due to floor-ceiling windows;
One bedroom Penthouse suite – 1, 251 square foot comfortable area with panoramic windows offering beautiful views from Mirage hotel and casino (Las Vegas, Nevada), with dining rooms and places to relax;
Two bedroom Penthouse – 1,600 sq.foot with four different rooms as 2 bedrooms, living and dining and more over wet bar;
Hospitality suite – 1,714 ideal place for business trips, with 2 bedrooms, wet and mini bars;
One bedroom Lanai – 2,650 sq.foot private luxury, private pool in the yard, limo transfer and personal concierge;
Two bedroom Lanai – 3,635 sq.feet area, containing the same amenities as other Lanai-styled suites;
Three bedroom Lanai – 4,640 square foot paradise also with personal swimming pool;
Two bedroom Villa – 6,955 sq.feet is the top of chic and comfort;
Three bedroom Villa – 8,554 sq.feet personal Villa on the highest floors with pool, fireplace and all luxurious amenities.
In Mirage, Las Vegas pool is located outdoors. There are also conference halls, business centre, fitness and spa centers, entertaining programs etc. Elegant design of the hotel will attract anyone to spend here your holidays, vacation or visit it with business partners.