Caesar Palace Las Vegas – Booking, Reviews
Yes, The Caesar Hotel Las Vegas is a place where "The Hangover" was filmed and also don't forget about "Rocky III" and "Rain Man", "Friends", "Ocean's Eleven" etc. It is five-star resort which proposes to its guests luxurious service and marvelous atmosphere of ancient Rome. If you are a fine judge of architecture, huge columns, magnificent statue of Julius Caesar right in the entrance, statues of Venus and David will blow you away at the moment you arrive in the hotel.
Concert hall seats 4,300 spectators, and Elton John, Bob Dylan and Leonard Cohen joined and also performed there. If you happen to stay in Vegas, don't forget about Hard Rock Hotel&Casino - another resort with splendid musical shows and programs.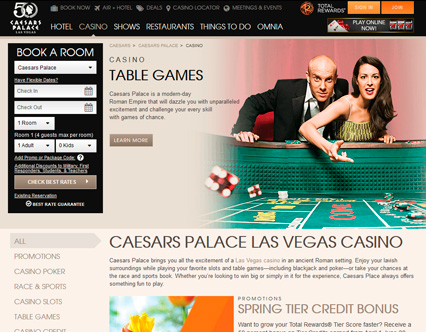 Site:
https://www.caesars.com/caesars-palace
Casino games:
slots, poker, baccarat, blackjack, keno
Entertainment:
Omnia night club
Amenities:
pool, spa-center
Book now
Luxurious Caesar Palace Casino
The hotel has impressive casino where checking account is used - so you don't have to carry money, just play and enjoy the surroundings. There is a Poker Room, more than 200 table games, 1,370 slot machines. You can choose between old-fashioned slots, video poker etc. Baccarat on 33 tables, Blackjack on 66 gaming tables, Let It Ride, Casino War and many others are offered for newcomers and experienced gamblers. Keno and sport bets are also available.
Hotel disposes wedding events, Birthday parties and other holidays. Caesar Palace Las Vegas shows are known all around the world. There is an immense night club Omnia with three dancing floors where world-known DJc come to light the public. Celine Dion, Elton John are frequent guests, but the following celebrities also visit and perform on the Caesars' stage: Mariah Carey, Matt Goss, Steve Winwood and such comedians as Jeff Dunham, Jerry Seinfeld etc. List is endless, come and see with your own eyes.
Still Hungry?
Sure such hotel maintains world-class restaurants, chefs and cuisines. For more detailed information about Caesar Palace restaurants consult the list below:
Bachannal Buffet proposes you more than 500 delicious dishes;
RAO's holds the best Italian cuisine, high-quality ingredients are guaranteed; NOBU seats 327 guests and proposes Japanese cuisine;
Central by Michel Richard accommodates 300 persons and has American cuisine with a French hint;
Empress Court offers unusual Cantonese cuisine;
Guy Savoy is the best restaurant in Las Vegas, where French cuisine is served.
Caesar Palace Las Vegas – Suites Of Your Dream
The resort contains nearly 4,000 rooms. You should also know that it includes six splendid towers where rooms are located: Augustus, Centurion, Forum, Palace, Roman and also Octavius. More than 50 kinds of room numbers are represented here, each has its individualities:
Augustus Tower Royal Suite has 1 king-size bed, living;
Forum Tower Emperor Suite – two-story room with living and bar on the 1st floor, and 2 bedrooms with 2 baths on the 2nd ;
Augustus Tower Spa Suit has the same as the last one but the bath is with sauna;
Absolut Find Your Flavour Suit contains more than 2 bedrooms, a small dance floor and an amazing view on Strip;
Augustus Tower Senators Suit is the room for business trips, because there is a meeting room;
Laurel Premium Room holds 1 king-size or 2 queen-size beds on 650 square foot, TV in the bath etc;
Palace Petite Suite belongs to Caesar Palace Las Vegas rooms offering pool view and spa; with king size or queen size beds it occupies 750 square foot area;
Forum Classic Royal Suite has 1,050 sq.foot with rain shower and gigantic living etc;
Nobu Nakone Suite arranges exotic design with 1,000 square foot;
Nobu Sake Suite keeps up to 1,950 sq.foot area with media room, bar and personal pool entering;
The Nobu Penthouse holds up to 4,350 square foot with 90-inch LCD TV, billiard room, terrace etc;
Caesars Palace Penthouse contains up to 3 bedrooms, max 3,400 sq.foot, wet bar, warm tones;
Laurel Collection Penthouse offers spa Bvlgari products, wet bar, huge dining area and start from 3,500 dollars;
Cleopatra Villa with 4,000 sq.foot maintains private pool entry, luxurious design, sauna, limo drives from and to the airport, the price starts from 15,000 dollars – mid-price segment of hotel Caesar Palace Las Vegas;
Marc Anthony Villa holds dry-bar, huge 800 square foot patio, private fountain for 18,000 dollars;
The Nobu Villa ranges 10,300 square foot elegant relaxing area with barbecue, enter to the Zed garden for 35,000 $;
Marcus Aurelius Villa with 9,500 square foot, three bedrooms, pool with spa features from 25,000 dollars per night;
Titus Villa holds 11,200 square foot with personal garden, limo service etc for 25,000 $ per night.
Of course it's not everything about suites, all rooms are available with smoking or non-smoking features. Hotel Las Vegas Caesar Palace contains 6 swimming pools: Neptune, Fortuna, Apollo, Jupiter and Temple. Venus pool Club is private and paid. Here you can find golf, spa centre, shops, conference rooms, TV hall and other surprises.