Iguazu Grand Hotel – Resort & Casino
Besides Iguazu Grand Hotel and Casino in Argentina there are also Iguazu Falls with 278 waterfalls which have been proclaimed one of the New Seven Wonders of the World. The hotel arranges two outdoor swimming pools, free Wi-Fi everywhere, shows, free private parking, tennis court etc - like in majority of luxurious casino resorts, like Cove Hotel Atlantis, for example. What do you think about eco relaxation? Let's see more detailed what are you offered.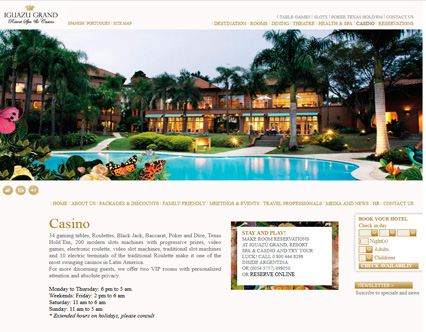 Site:
https://www.iguazugrand.com/en/
Casino games:
slot machines, table games
Entertainment:
rock-climbing, hiking, playground for children
Book now
Forget Your Wallet In Iguazu Casino
Casino holds more than 200 slot machines, 34 gaming tables. There is also private chamber where gamblers can put their huge money at stake. The atmosphere of richness, comfortable design will adjust you to spend everything. But anyway in Iguazu Hotel casino offers a chance to hit the jackpot - don't lose hope, keep on playing.
Cafe Magic prepares different kinds of shows, there dance and drinks are ordered until the morning. Sometimes famous singers perform in front of the guests, or comedy shows take place.
Have An Exotic Breakfast
Every day you have an access to Breakfast buffet in the lounge café from 6:30 – 10:30 a.m. and on Saturday and Sunday until 11:00 a.m. There is one pleasant moment – breakfast is fully included in the price also you can take lunch-box. In Iguazu Gran Hotel restaurants are represented by two comfortable places. EL Jardin looks out pool, garden and proposes international cuisine. La Terraza has the same overlook and it's specialized on Argentinean cuisine with delicious steaks. Lobby Lounge serves breakfast, lunch and dinner day-night. If you want to stay in room, just order it.
Garden Corners
Iguazu Gran Hotel maintains 6 different types of suites. Look through the list below and choose your ideal room:
Junior Suite houses 430 square ft with safe, mini bar etc;
Garden Suite has 753 square ft separate living and dining rooms with 1 king size bed;
Paradise Suite maintains 807 square ft and the same amenities which was above;
Panoramic Suite is Iguazu Grand Hotel suite with 860 sq.ft and sweet comfortable design; Master Suite looks over the garden and has 1,291 sq.ft;
Presidential Suite holds 2,367 square foot with three bedrooms, one and half baths, media room and special service which will entertain the arrived guests.
Let Everyone Relax
In Iguazu Grand Hotel spa offers programs helping to relax and enjoy the fresh air. Different therapy procedures are available. Children who are more than 18 years can visit Spa rooms too. You can find next peculiarities: massages, sauna, hydrotherapy, body scrubs, reflexology and many others. There are special offerings on Fridays and Saturdays as full beauty service which includes manicure, hairstyling and pedicure. Fitness centre is opened for you every day; also there is a tennis club so you can join at any time.
Especially for the families with children there are babysitters, swimming pools, special rooms with play stations where they can spend time while you relaxing nearby. There is special fitness and entertaining service for children in the pool. Generally there are three of them, so choose to your taste.
If you are wonder what to do except swimming, eating and sleeping, look at the next propositions:
Climb on nearest rock, the safety is guaranteed;
Hiking trails and bike attractions are accessible;
There is ziplining, take you family and spend the day with joy and pleasure;
Playground as for children and as for adults;
Iguazu Gran Resort & Casino has many awards and advantages to visit it. More over each morning will meet you with exotic fruits, housekeeping, free bottled water, LCD TVs in every room, rainfall showers, indoor pool and children's club, some splendid meeting rooms and many other amenities. So buy tickets for your family and Iguazu is waiting for you.