Atlantis Bahamas – Reviews And Tips
Just imagine yourself spending a vacation or business trip in one of the most luxurious complexes? Or are you fond of islands where no one could get you? The Cove Hotel, Atlantis is waiting for you on Bahamas. This is five-star fantabulous hotel is situated exactly nearby the ocean - like famous Conrad Punta del Este resort - that's why almost all rooms overlook the splendid view. Actually it's the small city with more than 35 bars and restaurants, Spa and Fitness complex, different shops, private beach etc.
Generally this complex consists of 5 hotels and one of them is Cove Atlantis, which was founded in 2007.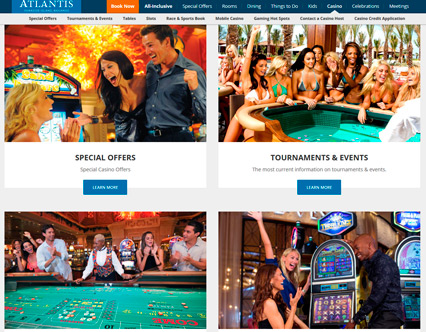 Site:
http://www.atlantisbahamas.com/rooms/thecoveatlantis
Casino games:
baccarat, roulette, poker, let it ride, slot machines, horse racing
Entertainment:
Xbox 360, PlayStations, DJs, rock climbing, tennis, golf, yachting, cinema
Amenities:
pool, spa-center, gym
Book now
Atlantis Casino - Glamour and Glitter
The Casino was well-designed including glass statues which ameliorate the atmosphere around. If you prefer Baccarat, roulette, poker, Let It Ride, more than 75 gaming tables give an opportunity to spend money for win. If you like slots, then 750 slot machines are opened for anyone including the newest technologies. Or maybe your hobby is race/sport booking? There are walls of LED TVs in the special 500 square foot hall.
Dive in Submarine History
Nearby the Cove Atlantis, Bahamas such attractions are available: amazing Aquarium under the open sky and Aquaventure (it's a gigantic water park with an abundance of slides and pools). There are awesome activities for both adults and children as rock climbing, tennis, golf, yachting, and cinema. Moreover especially for kids there are unique activity programs where they will learn more about underwater life. Feeding the fish, game centre, Atlantis speedway, diving, catamaran walk etc let the families don't worry about their children's pastime. So why can only adults dance? Club Rush proposes for 13-17 teenagers chill out, Xbox 360, PlayStations, live DJs etc.
World of Restaurants
After attractions and rich day hunger makes itself known. Let's dwell on fine and casual dining offered in Atlantis Casino Resort.
What for dining variations, there are French, Asian, Italian cuisines (there are more restaurants):
In 77° West you can order oven baked wheat tostada, roasted chilean seabass or for a dessert warm melting coffee + chocolate lava;
NOBU is a famous Japanese restaurant with high-quality ingredients and chef;
Cafe Martinique was created by celebrity chef Jean-Georges Vongerichten and the design is absolutely elegant and stylish;
Seafire Steakhouse with mosaic floor and cozy atmosphere proposes you Andros Crab & Lobster Cake, lemon olive oil drizzle etc;
Casual dining in Paradise Cove, Bahamas contains next restaurants (not all restaurants): Poseidon's Table is blue-colored buffet, there you can meet your morning;
Bimini Road has both sandwiches and burgers and the main course as well, designed in a sunny, summer way;
Lagoon Bar and Grill offers salads, desserts, pizzas and an overwhelming lagoon with sharks;
Below in our Atlantis resort reviews you can see the various cafes and bars where you can have a snack or just some cocktail and dessert:
Daiquiri Shack;
Dive In;
Plato's;
Cave Grill;
The Point;
Marina Pizzeria;
Shark Bites;
Ben&Jerry's
Ocean Is Everywhere
Situated in the Cove Bahamas Atlantis hotel maintains 600 different rooms on 22 floors with all amenities and comfort, there are 7 suites:
Ocean Suites hold one king or two queen size beds, safe, HD TV, mini bar, they are located from 1 to 3 floor;
Deluxe Ocean Suites has one peculiarity "Club", it offers you an ocean overlook;
Indigo Suites has 924 square foot, French balcony and view on the ocean;
Azure Suites proposes rainfall shower, 2 bedroom family suite, 2 TVs and 2 balconies etc; Sapphire Suites includes huge designed bath, separate living, panoramic windows and special card The Club Lounge where meal is served during the day;
Presidential Suites have a big balcony along the room, kitchen, huge TV, 2 baths, gym, dining and living rooms;
Penthouse Suites is 2-story wonderful room with windows from floor to ceiling, 3 bedrooms, separate living, kitchen, few balconies and other pleasant amenities.
There is really an enormous variety of entertaining activities, an outdoor swimming pool with waterfall, club Cain with mini casino and parties at night, Fitness center, conference rooms, water skiing, Spa, sauna etc.
The Cove Atlantis Resort is the best place on Bahamas to spend vacation with active leisure. Children will be busy in different activities and you will have a possibility to relax too.