Gran Hotel Ibiza Review
Do you want to see real luxury and plunge into the atmosphere of richness and summer? Gran Hotel Ibiza invites you to taste different cuisines, try spa, casino, sauna and lots of other special features. This Paradise is surrounded by gardens and started working in 2008. It's quite modern and is often called "Art Hotel" due to great gallery with fabulous works. The hotel isn't very huge and has 157 rooms to offer, but they are very light and spacious. If you prefer huge resort complexes, pay your attention at Foxwoods Resort - beautiful casino hotel in Connecticut.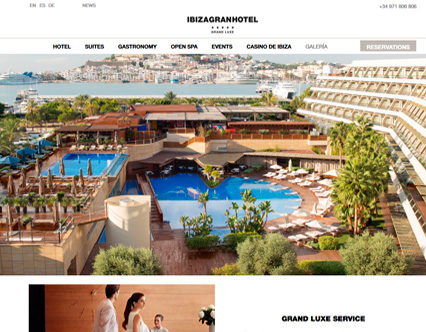 Site:
www.ibizagranhotel.com
Casino games:
slot machines, table games
Entertainment:
concert hall, guest stars
Book now
Roll Your Dice
Resort complex contains stylish and splendid Ibiza Gran Hotel Casino with poker rooms, gambling halls, slot games and special private room for high-rollers. There are more than 100 kinds of slot machines, table games as Roulette, Blackjack, Poker etc. As we've already mentioned you can find exclusive rooms with casino game to play in calm and relaxing atmosphere and focusing on winning.
Joy-Day
You are given an opportunity to celebrate adorable days and holidays right here. No matter what it is: wedding, corporate party, Birthday, business meeting etc managers will help you to organize in the best traditions. For visitors of Ibiza Gran Hotel spa procedures are also offered. Near the resort you can find old town and marvelous beach. Sometimes Cirque du Soleil comes and gratifies guests. Professional events take place there, parties at night are also guaranteed.
Yummy Modern Food
From the early morning breakfast buffet is served for guests up to 11:30 am, dietetic area proposes fresh juices, pancakes, oysters, eggs - whatever you wish. If you'd love to sunbathe, order food nearby swimming pool - lounge cafe presents a menu with various awesome cocktails. Three restaurants maintain absolutely unique and relaxing atmosphere with fresh and qualitative products.
First is la Gaia – stylish Ibiza Gran Hotel restaurant with stunning design. Japeruvian cuisine will be surprise for everyone - taste King prawns tempura or Spicy tuna with cucumber and sesame seeds. There you will see cute photographs by Katrin Krik.
Second follows Cipriani with Italian cuisine, classic furniture from 60s but at the same time the atmosphere is fascinating.
Third goes extraordinary unique experience with art and music features named Heart Ibiza, this project was founded by one of the creator of Cirque du Soleil.
Another way to have a meal is dining-in-room. Do you want to stay in bed in the morning? Offered by Ibiza Gran Hotel breakfast will cheer you up.
Comfy Suites For True Elite
As it was mentioned, the suites are clear, modern and each room has spectacular view on old city and sea. 157 rooms are represented offering bamboo furniture, stunning terraces etc.
Terrace Suite has lovely terrace, panoramic windows, one King size bed etc;
Suit disposes in room Jacuzzi, shower with massage functions, terrace and other pleasant amenities;
Ibiza Gran Hotel Junior Suite has 1 king size/2 queen size beds, 55-inch Led TV; Deluxe Suite holds loft furniture, locating on the 5th floor, terrace with Jacuzzi, dressing room and two 55" full HD TVs;
Gran Suite Isla Blanca keeps 2 king-size beds in 2 bedrooms, 2 baths, 3 Led TVs, hige terrace with warmed pool and fantastic view on Spain;
Gran Suite Dalt Villa maintains the same options as previous with lounge zone;
Gran Suite Mirador de Ibiza is 2-story Paradise with best amenities ever.
Also a resort has a couple of conference halls, 2 swimming pools one is for guests with children, also there is a babysitter and playroom. Ibiza Gran Hotel gym and Spa offer huge abundance of choice as oil massage, mineral treatment etc.
If you are looking for calm and luxurious vacation or business-trip, this pllace was made for you. The price is not really expensive for such hotel – 235£ with breakfast. During high season from July to August Ibiza Gran is fully booked and the room costs 600£. It's closed from October up to April. It's a great place for relax with family and see the sights of Spain.