Foxwoods Casino Hotel — Review & Online Booking
If you are tired of fast life of big cities, then welcome to Foxwoods Casino Hotel in Mashantucket, Connecticut. It is a huge complex consisting of casino, entertaining center, golf-area, theater etc. It was opened in 1986 and in the beginning it was used as bingo hall. Then it was developing and nowadays became one of the most amazing places for your rest, together with Vegas hotels, like California Hotel and Casino. The building itself has extremely individual design; you will be able to admire it while walking in and out of hotel.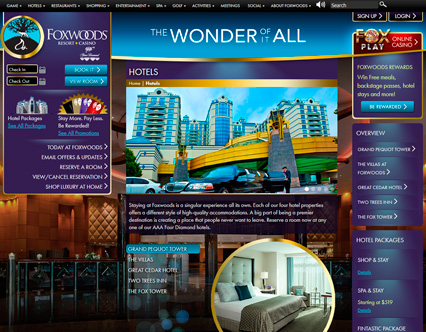 Site:
https://www.foxwoods.com/default.aspx
Casino games:
Slots, Poker, Blackjack, Roulette, Bingo, Keno, Money Wheel, Pai Gow
Entertainment:
Golf, Shopping, Comedy Shows
Amenities:
Pool, Spa-center
Book now
So Many Slots!
Surely casino is a very important part of this luxurious resort. In general Foxwoods Resort and Casino has 6 of them offering 22 types of table games such as Poker, Blackjack, Roulette, more than 250 gaming tables and (sounds really incredible) 4,800 slot machines! The players are offered games of different themes and with various bonus features – from conventional machines to modern 3D ones. There you are also able to play Bingo, Keno, Money Wheel, Pai Gow and many other games to your taste.
FoxEntertaining
The resort has a great variety of entertaining shows not only for adults, but for children as well. No matter whether you came for business deals or to have a vacation, famous comedy showmen will come to knock you dead: Kevin James, Norm McDonald, Jim Gaffigan and others. If you love dancing all night long, Foxwood Casino Resort represents 8 clubs, where you can chill out with friends, dance and order delicious food. Those, who came with their whole family are proposed to take part in Kids Week and childish programs. In the end of May an outdoor pool opens and there will be parties and amusements all day, all night.
Gastronomical Diversity
Dining here is full of surprises and is represented by casual and fine cuisines, quick service, etc - whatever you wish. Fine dining is served at 6 interesting places such as:
Vue 24, Al Dente and Alta Strada – Italian cuisine
Cedars Restaurant and David Burke Prime– steakhouses
Red Lantern – Asian cuisine
Casual Foxwoods casino restaurants include 9 adorable eating houses:
California Pizza Kitchen
old-fashioned High Rollers
Matches Tavern for sport fans
Veranda Cafe with awesome views, etc.
Quick Services maintain 18 cafes and bars such as Fay da Bakery, Lucky 7, Phillips Seafood, Subway, sure Starbucks and lots of others.
Choose Your Own Ideal Place for Holiday
This place offers variety of rooms to stay. You are offered suites in 5 different buildings. First is Grand Pequot Tower:
Deluxe Foxwood hotel rooms with 450 square foot has 1 king or 2 queen bed and 1 bathroom;
Petite Suite 1 King Bed contains wet bar, 2 LCD TV, seating area, Jacuzzi etc;
One Bedroom Suite – 900 square foot, entertaining center and the same what was mentioned above;
Corner Suit hold 1,400 sq.foot with Jacuzzi in the bedroom
Second type is The Villas. There are 23 villas which are situated in Grand Pequot Tower, their average area is 1,400 square foot, with living room, large TV etc.
Then Foxwoods hotel and casino offers Great Cedar Hotel where Deluxe Room and One Bedroom Suite are included. One is 375 sq.foot with 1-king or 2-queen beds, another is 900 sq.foot with one king bed.
Then follows the fourth part Two Trees Inn. If you are fond of calm and relaxing atmosphere, stay there. A beautiful courtyard is waiting for guests:
Deluxe Rooms keep 336 square foot, one king or double bed;
Junior Suit of 529 square foot has the same amenities as previous one.
The last one if The Fox Tower. There is a modern design, Spa complex and outdoor pool, here you can find:
Deluxe Room has king or double bed with a view of the forest;
Director Suite gives you a panoramic window, King-size bed and Jacuzzi grants you a view on the forest;
Producer Suit maintains the same features as two previous ones.
Norwich and Foxwood Casino Spa are proposed to you - it's the pure place for relaxation. As we have said there is a huge area for golf-lovers with splendid lake and picturesque landscape. Bowling, Arcade, Pequot trails and museum are opened to everyone. Conference rooms and different shops are also available. Generally Foxwoods contains 2,266 rooms and covers 9 millions square foot area. You must see the beauty of this hotel for yourself!