Conrad Punta Del Este – Booking Your Dream Suite
Fed up with boring work and daily problems? Then Conrad Punta del Este resort&casino, which is located in the middle of Uruguay, can't wait you to arrive. They provide first-class services: all of hotel guests are met at the airport – in order the representatives could arrange everything in time, you should give them notice withing several days before arrival. Trip from airpot to hotel takes 15 minutes only, and you will relax in a marvelous place located right on the Atlantic coast. You can also vizit Hotel Hyatt Mendoza in Argentina - famous casino resort not far from Uruguay.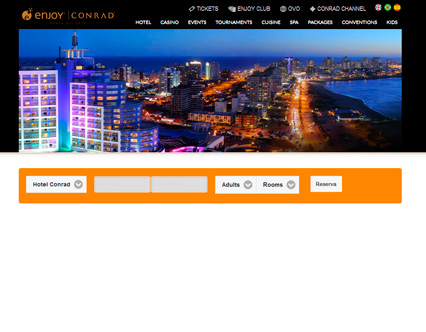 Site:
http://www.conrad.com.uy/en
Casino games:
slots, baccarat, roulette, poker
Entertainment:
night clubs
Book now
Open-Hearted Casino
By the way this is the only resort here which obtains huge casino offering variety of entertainments. In casino Conrad Punta del Este there are about 75 playing tables offering different kinds of Roulette, Baccarat, and surely, Poker. Baccarat gamblers can also play in VIP rooms.
Almost 550 slot machines of different themes are available, 82 of them are situated in the special VIP area for high-rollers – regular players do not have access to this zone. Casino works every day, round-the-clock without weekends. There are two premium clubs named Conrad and Fortuna - only special members and premium gamblers can enter them.
Dance Till The Dawn Comes
For those who prefer visiting night club Conrad Punta del Este is ready to offer OVO - a luxurious place to entertain everyone. If you want to enjoy some cozy and comfortable atmosphere Blend Bar has a huge screen showing different videos and enormous terrace which overlooks the bay. Various fashion events where famous designers take part are held in the hotel during high season.
Eat Healthy, But Delicious Food
Everyone loves eating high-quality food, no matter with exotic or habitual ingredients. Maybe this time you decide to try something new. Las Frisas serves European cuisine and is considered as Bistro: pizza, barbecued beef, desserts and moreover it might be the only one Conrad Punta del Este restaurant which is opened all year round.
In St.Tropez you can try Mediterranean and Italian cuisine - tasty dishes are accompanied with Argentinean wines. Gaucho's Grill is poolside dining, -you can enjoy warm sun and water, while tasting luxurious food. OVO, which we mentioned above, works not only at night – at daytime you can try there unusual cuisine and modern cocktails. OVO Beach offers a summer restaurant which is situated next to the hotel, so you can eat right on the beach.
Ocean Calmness
There are 296 rooms, 30 of them are incredible Conrad Punta del Este suites with large splendid terraces. Let's dwell on next types of rooms and amenities they offer:
Bay rooms – LCD TV, balcony with an awesome view etc;
Marina rooms – two queen-size beds, balcony, minibar;
Club rooms hold the same as previous two;
Junior Suites maintain LCD, separate living;
Flamingo Suites have terrace and special amenities;
Punta Suites contain Jacuzzi with balcony, PC and TV;
Vegas Suites have huge terrace, dining sets, minibar etc;
Caesar Suites is an innovative room with Jacuzzi, additional bath, PC etc;
Conrad Suites set a dining table for 12 persons, terrace, personal kitchen, dressing room and other personal amenities.
By the way all suites are equipped with panoramic windows, so you are able to admire splendid views.
Conrad Punta del Este spa proposes a large variety of procedures as Shiatsu, lifting and relax, ant cellulite treatment and so on. What about active rest? Yoga, indoor and outdoor swimming pools, bicycles, services of personal trainers are available in modern fitness-center with innovative equipment.