Park Hyatt Mendoza Hotel - Casino & Spa Resort
Welcome to Hotel Park Hyatt Mendoza Spa, a luxury five star-hotel, situated in the city of Mendoza, Argentina. At the first sight you will be charmed by its facade designed in a colonial style of nineteenth century. Interior design perfectly demonstrates local culture and spirit of Argentina: high ceilings, light and rambling rooms with wood predominating in their design. Apart from its beauty, Park Hayatt Mendoza Hotel has a very convenient location: close to the airport, right in the heart of the city – Plaza Independencia. It is an brilliant place for leisure activities and business meetings.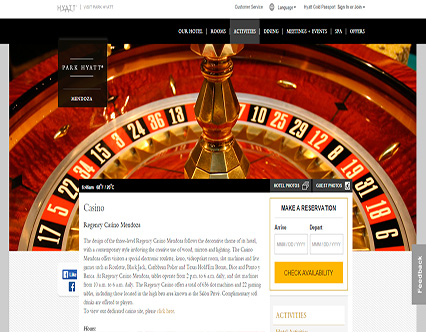 Site:
http://mendoza.park.hyatt.com/en/hotel/home.html
Casino games:
roulette, keno, videopoker room, slot machines, live games
Entertainment:
Golf, Wine tourism, Rafting
Amenities:
Pool, Fitness, Kaua Club&Spa
Book now
Regency Casino in Mendoza Hotel
One of the most important objects of interest, which attracts tourists from all parts of the world to the hotel is Regency Casino - Hyatt Mendoza is very proud of it. The style and air of elegance is felt in every detail: huge mirrors from floor to ceiling, light rooms, walls decorated with wooden panels... Casino offers variety of games to any taste, such as electronic and live ones. Those who are fond of the first type, can entertain themselves with a roulette, various slot machines, keno and videopoker. Fans of live games usually play Black Jack, Roulette, Poker, Texas Hold'em Bonus and Dice. The doors of Hyatt Casino Mendoza Argentina are opened for everyone who wishes from two p.m. till the morning. Slot machines begin to work at ten o'clock in the morning. There about 656 various kinds of them and 22 tables for table games offered. All the visitors can enjoy complimentary drinks on the house.
Know What True Relaxation Means
For those who are not fond of gambling and prefer "lazy" rest, on the territory of Park Hayatt Mendoza Hotel works a spa-center, called Kaua club&Spa. Its peculiarity is usage of local products such as wine, olives and grapes in treatment. They are well known for being natural antioxidants. Kaua club&Spa also produces cosmetics based on natural ingredients, remarkable for its aroma and benefits. The whole complex situated on the territory of Park Hyatt hotel Mendoza includes sauna, different pools, spa services, rooms for relaxation, well-equipped high technology gym with personal trainer. Admirers of active rest can play golf or tennis on specially-prepared fields.
Good Mood Due To Tasty Food
To satisfy even the most sophisticated tastes, wide range of bars and restaurants is offered. We are going to describe them briefly below.
Ambar Living bar is a lounge bar, included in casino complex. There you can relax, listen to jazz or traditional music of Argentina and enjoy drinks (both local and international) with delicious snacks. It is famous for its spectacular live shows.
Bistro M and La Terraza de la Plaza are public places with Italian cuisine cooked from fresh local ingredients. This Park Hyatt Mendoza restaurant has nothing in excess but all necessary to have a good time: tasty food, wine library and a terrace with a perfect view.
Grill Q serves traditional dishes from Argentina . It is famous for asado meat and steaks. Wine library is large and it won't be difficult find a matching drink to any kind of meat.
Uvas Lounge and Bar offers expensive boutique wines and cheese plates. There are about 100 kinds of wines and a tasting room to try it.
Enjoy Extra-Class Comfort
There are four types of rooms offered in Mendoza Hotel: Standard, Deluxe, Suite and View. Standard is a 36 sq.m room with a bathroom, equipped with all necessary: flat screen TV, WiFi, mini bar, individual heat and other features. While booking Park Hyat Mendoza rooms note that Deluxe and Suite differ only in their size: first one is 40 sq.m, while the second is about 100. Apart from commodities available for Standard they have a marble bath and a large working desk. A View room is remarkable for a brilliant view on the city, but it's relatively small – the size of the Standard one.
The hotel also includes over 300 sq.m of conference and ballroom halls, so it's a perfect place to organize small and large meetings and other important events.
This hotel casino Mendoza Argentina is certainly worth your attention. It has entertainments to satisfy every taste and combines comfort and beauty. Doesn't it sound like a formula for success?