Hotel Aquarius Laughlin – Rooms, Dining, Amenities Offered
It will be interesting to know that Hotel Aquarius Laughlin is better known as Flamingo Hilton; it was founded in 1990 under such a name. Then it was changed to Flamingo Laughlin in 2000 and in 2006 it became Aquarius Casino Resort. The hotel is located in Laughlin, Nevada and is represented by two twin 18-stored glass towers, which offer you the diversity of services and entertainments, like other splendid resort - Hotel Caesar Palace Las Vegas, for example.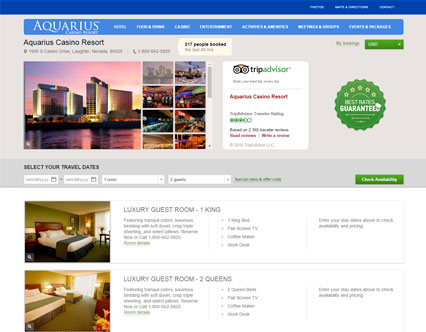 Site:
http://www.aquariuscasinoresort.com/
Casino games:
slots, table games, video poker, keno
Entertainment:
Golf course, river trip, sightseeing tours, tennis court, water skiing, fishing, shops
Amenities:
pool, spa-center, gym
Book now
Welcoming Casino
An enormous Aquarius Casino Laughlin holds 57,070 square foot area with more than 1,200 slot games as Willy Wonka, Titan 360 with progressive jackpots and also video poker and keno games. 33 tables provide gamblers with following games - Roulette, Pai Gow, Blackjack etc. Horse racing and sport betting are also available. An ungovernable advantage is the absence of fees on high credits.
World Of Endless Entertainment
Laughlin event centre hosts different famous guests like Kid Rock or Miranda Lambert. There is a vast stage with 2 big screens and rather great territory where you can dance, jump and enjoy the adorable music. Golf Course, river trip, sightseeing tours, tennis court, Aquarius pools which are situated on the roof of the third storey, Spa procedures, gyms, water skiing, fishing, shops are offered to the beloved guests. So there are activities to any taste – from relaxing to breathtaking.
Meals 24/7
One of the important parts of high-quality rest is tasty food. And this fact is very well understood in Aquarius Hotel Laughlin – restaurants offered are on the top level:
The Vineyard Restaurant works every day except Tuesday & Wednesday and serves Italian cuisine with dainty dishes and seafood;
Windows on the River has both brunch and dinner;
Splash is open from 9 a.m. up to midnight and has different cocktails and drinks;
Zodiac Bar is located next to casino, works 24/7 and proposes various tasty cocktails;
The Cove – Aquarius Hotel bar&restaurant - offers wide variety of drinks and pizzas;
Duet coffee & wine invites guests to try amazing Paninis, flavored coffee and unique sorts of wine;
Cafe Aquarius serves American cuisine and rather diversified menu.
Only Mountains And River
This resort houses 1,907 various suites with balconies, safes, Wi-Fi, coffeemakers, smoking/non-smoking rooms, microwaves, newspapers, mini bars, voicemails, safes etc:
Luxury Guest Room with 350 square foot area offers comfortable one king or two queen-size beds, 32" TV;
Panorama is on 12 floor and higher and belongs to Aquarius Hotel Laughlin rooms with 1 king bed or 2 queen-size beds, panoramic windows etc;
Riverview Room represents the same choice of beds with floor-ceiling windows which overlook the river;
Sunset Suite contains the same amenities but with separate living room, bar and a bath;
Majestic Suite offers great dining room and separate living, guest room, TV, refrigerator etc;
There are two types of Accessible rooms which are nearby the elevators and with special amenities.
The prices of suites vary from 229 dollars to 529 dollars. Daily rooms are available from 44$ - 119$ with breakfast.
Even more the meetings and weddings can take place in the Aquarius Hotel Laughlin NV - reservations of more than 30,000 square foot area to organize something special and unique are available. Conference and Business centers will give you a possibility to continue working if you'd love to: they obtain printer, copier, Fax, offer courier service etc. There are different vacation Packages as Spa Package, Golf, special Suite, Outdoor Adventure, Dynamic Duo, Scenic Horseback Ride etc. They allow you to combine pleasure and comfort with fun and amusement.