Wynn Macau Hotel And Casino – Experience Pure Luxury
Opened in 2006, Wynn Macau Hotel and Casino is situated in Macau, China. A huge building consists of more than 600 rooms. It is a major habitat for gamblers and those who want to enjoy a truly VIP experience.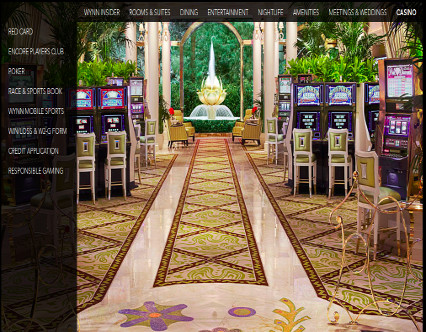 Site:
http://www.wynnmacau.com/en/
Casino games:
slot machines, table games
Entertainment:
Moon Jelly Aquarium, Dragon of Fortune, Performance Lake
Amenities:
gym, spa-salon, swimming pool
Book now
Gambling In Macau
This town is often called "Oriental Las Vegas". Gambling tourism here is very well-developed. The casino in Wynn Macau Hotel is very famous all over the world. It was even shown in Skyfall, one of the films about James Bond. It occupies two floors. On floor 212 of Wynn casino Macau is situated a regular hall, and floor 289 is a place opened for VIP only. Casino offers a wide range of games: 375 slot machines and 501 table games! Isn't it enough to satisfy even the most sophisticated taste?
How Not To Get Bored
A hotel is remarkable for its stunning shows and performances held right in the hotel. But if you are not a public person, you are still able to find something to your liking. Both women and men can spend time in a beauty salon, equipped with up-to-date outfit. Experienced stuff of Wynn resorts Macau will make you feel relaxed and treat you the way you deserve it! Admirers of sport usually spend time in a modern gym. A personal trainer working there is always ready to help you keep your figure fit and slim. The resort complex also include spa-salon and swimming pools.
New Dawn In Gastronomy
Both those who love fine dining and people who just want to have a bite will find a place to visit here. We are going to describe briefly all the restaurants present on the territory of the hotel below.
Golden Flower offers authentic Oriental food. It has two Michelin stars – a perfect place for those who eager to try luxurious Wynn Macau dining. Those who meet for an intimate conversation can have a dinner in one of the private rooms.
In Mizumi dishes of Japanese cuisine, made of local products are offered. The design also includes features of a traditional Japanese style.
Ristorante il Teatro serves Italian cuisine and is remarkable for its stunning view on the lake.
Wing Lei is a restaurant of Chinese food with authentic Chinese design.
As we already mentioned, there are some bistros for those who just want to eat simple but tasty dinner or breakfast. They are:
99 noodles – a cafe with bright design, offering Chinese dishes including various kinds of noodles.
Cafe Esplanada and Cafe Encore serve international cuisine.
Red 8 is famous for an open kitchen where chefs show spectacular performances cooking seemingly regular dishes. Chinese and Northern Chinese cuisine is served.
If you just want to relax with a cocktail or two in Wynn Macau resort you are free to choose between three bars: Bar Cristal, Cinnebar and Wing Lei Lounge.
Comfort In Every Single Detail
The living zone is divided in two towers: Wynn and Encore. Wynn Tower offers the following kinds of rooms:
Deluxe Room and Grand Deluxe Room – 56 sq.m, a breathtaking view on Nam Van lake. All modern conveniences such as WiFi, conditioning, plasma TV and others are available.
One/Two Bedroom Suites – 185/278 sq.m, all modern conveniences and private bar and massage rooms are offered.
Wynn Macau rooms in Encore Tower include Encore Deluxe Suite and Encore Grand Salon Suite. These are truly luxurious rooms offering all conveniences for a comfortable VIP rest.
So, this is a stunning place both for those who want to relax and those who want to conduct a business meeting or celebrate a wedding. Wide range of services certainly won't leave anyone bored.