Stratosphere Casino Hotel
Stratosphere Hotel & Casino stands out of Las Vegas Strip Resorts not just by its northernmost location but by its outstanding shape and status of the tallest tower in the USA. Originally tower conception was conceived as building similar to Eiffel Tower but numerous technical character obstacles turned the plan aside.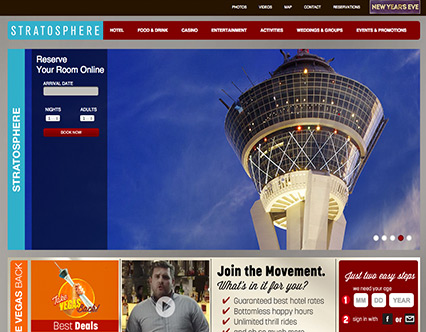 Site:
stratospherehotel.com
Casino games:
table games, poker, slots
Entertainment:
Pin Up, L.A. Comedy Club
Amenities:
Tower Shops, Fitness Center, Spa, Pool, Sky Jump, Insanity
Book now
Stratosphere - the luxury world-class hotel with 2 427 rooms, the huge casino of 80 000 square feet area, entertainment set with sign events like SkyJump and other ride attractions. Stratosphere dining zone offers exceptional restaurants of different cuisines and thematic scenes.
Gaming Centre
Stratosphere Hotel and Casino Las Vegas offers a big range of slots (nearly 800) and video poker games with some specials unavailable in other Nevada casinos. More than 40 favorite table games such as Crapless Craps, Roulette, Blackjack bring wins to casino guests for years. There is a possibility to attain Free table game tutorials as well.
Renewed poker rooms counts up to 15 tables for beginners and pro opened round-the-clock. Daily and monthly tournaments, poker lessons, cocktail and dining services turn you gaming experience into pleasant leisure. Stratosphere Poker is also accessible online for free.
Another noteworthy gaming event is sport betting. Comfortable hall with Race& Sports Bar create necessary conditions for lucky bet whether your choice is sport games or horse racing.
For passionate sport lovers Stratosphere Casino presents a big stadium-style floor for sports headquarters.
For save and easy gaming Stratosphere Casino provides convenient casino credit system available non-stop.
Entartainment
Stratosphere entertaining events became the resort`s distinctive mark as its Pin Up or Live Entertainment shows are internationally known. Lead at Stratosphere Stage Pin Up show is a high class performance inspired by Pin Up calendar, sex, beauty and Art.
L.A. Comedy Club show is legendary Stratosphere event gained lots of comedy awards and presented icon comedians like Aziz Anazari to the public. Performed in Stratosphere Dragon Room it provides special discounts for hotel guests.
Stratosphere night life entertainment embodied in Level 107 Lounge a huge dancing space 107 floors above the Strip. Every night the best DJs make the guests to experience crazy Stratosphere night life energy and relax before coming gaming day.
Live DJ at C Bar and Live Music at Images are another entertaining establishments for guest above 21.
Excluding luxury lounges and cafes Stratosphere Resort offer breathtaking activities like SkyJump, X-Scream, Big Shot, Insanity. However, only brave searching for thrill guests chose these services as SkyJump represents a stunning leap from 829 feet tower with 40 mph speed. Among less extreme activities are Radius Rooftop Pool and Wet Lounge, Resort Swimming Pool, Roin Josef SPA, Tower Shops and Fitness Centre.
Dining
Stratosphere Hotel and Casino dining establishments are studios of culinary creativity. Among them international cuisine restaurants like Top of the World located 800 feet above the Strip.
Another place with eye-catching view is Air Bar on 108 floor. Two leisure sceneries are available here, one chooses whether to stay in Bar having refreshing cocktails or take a chance and have a SkyJump leap.
Chef Rick Giffen responsible for MccCall`s Heartland Grill menu pretends to satisfy every guest by his food as he claims that his seafood dishes, stakes and specialties leave no one indifferent.
Stratosphere Resort pleases its guest by lounges and bars like CBar, MccCall`s Whiskey BAr, as well as fast food Starbucks, Mookies, Chicago Hot Dog etc.
This is an incomplete list of Stratosphere places created to gratify the customer with delicious food and engrossing leisure.
Accomodations
Depending on the price, comfort level, size and accessible services Stratosphere Hotel provides rooms and suites adapted to any preferences.
Stratosphere select room contains one King bed or two Queens, MP3 player and in-room safe. Deluxe Strip View rooms` main advantage is an incredible view of Las Vegas Strip while Deluxe Premier Room has work area with desk.
More posh Grand and Oasis suites differ by separated dining and sitting area, refrigerator, wet bar.
All Stratosphere Hotel rooms have their peculiar conveniences and services and can be booked in any moment via Internet.