Sky City Hotel Aukland - Casino & Spa Resort
Visit a large complex called Sky City Grand Hotel – New Zealand is famous for this holiday resort. It consists of two hotels, a casino and lots of bars and restaurants. In this review we are going to expand on one of the hotels, SkyCity Grand Hotel which is one of the most popular casino hotels and every year attracts lots of tourists, including even celebrities.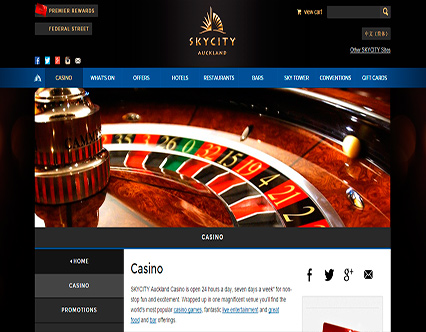 Site:
https://www.skycityauckland.co.nz/hotels/skycity-grand/
Casino games:
slots, skycity poker, online gaming
Entertainment:
shopping, yacht sailing, helicopter flight
Book now
SkyCity Grand Hotel offers first class five-star rest. It has twenty one level and 316 spacious rooms with stunning views waiting for their visitors. But for sure the main point of interest is the casino, which is the unique in Auckland. So, in SkyCity Grand Hotel you can:
Try your luck!
Even the experienced gamblers become embarrassed by variety of games offered in Sky City Hotel & Casino: about 1600 slot machines and 100 tables to play roulette or blackjack. The casino itself is so large that it is subdivided in two zones: Pacific and Platinum. In Pacific people play table games and Platinum is for admirers of slots. By 2017 it is planned to set new poker machines and playing tables.
Relax and Take It Easy
Apart from the casino, there is a lot of ways to entertain yourself while staying at the hotel. You are offered various entertainment programs, such as live shows and concerts. Of course, for your relaxation Sky City Grand Hotel spa, sauna, large heated pool (25 meters long) and a gym, working round the clock, are offered. All this is situated within easy reach of rooms and you are able to visit recreation zone whenever you want to.
Enjoy first-class conveniences
As we mentioned above, there are 316 rooms, which are divided in six types: Premium Luxury Room. Its cost begins at the point of 319 dollars per night. All the furniture is made of natural materials, the design is simple and ergonomic. These rooms have all conveniences you'll need: TV, unlimited WiFi, coffee machine, shower and bath, minibar, air-conditioning etc. They are the cheapest numbers in this hotel. Premium Luxury Harbour View and Superior King Suite offer beautiful views for 349 dollars per night. All modern commodities included. Premier Self Contained Suite and Luxury King Suite cost 509 dollars per night and are remarkable for combining luxury and convenience. Sky City Grand Hotel rooms have commodities including washing machine, microwave and a rainhead shower. Grand Presidential Suite is the most expensive one (1929 dollars at least). It is meant for those who want to enjoy truly VIP experience and has all possible modern conveniences.
Eat tasty food
There are three restaurants at your disposal. Different cuisines, but always special approach to every client are likely to satisfy any taste.
Grill by Sean Connoly is a restaurant with atmosphere of relax, famous for its meat dishes prepared on grill (as it becomes clear from its name). The kitchen is simple and authentic.
Masu by Nick Watt offers Japanese cuisine prepared from local products. It is remarkable for its quiet, informal atmosphere and natural decor.

Gusto at the Grand serves Italian dishes, absolutely simple and rustic food. It's a brilliant Sky City restaurant – Aukland doesn't have so many places like this to spend time with your friends or family and enjoy food from fresh seasonal fruit and vegetables.
Sky City Grand Hotel is worth visiting not only because of its casino, the unique in the city but also to enjoy the first-class luxurious rest. It doesn't get any better place to conduct a business meeting or spend wonderful weekend with your friends and relatives.