Red Rock Hotel And Casino – Luxurious Vegas Rest
Surrounded by mountains, Red Rock resort Las Vegas attracts thousands of gamblers since 2006, the year it was opened. It won lots of international awards and remains one of the best Vegas hotels. This place is remarkable for convenient location and fantastic views.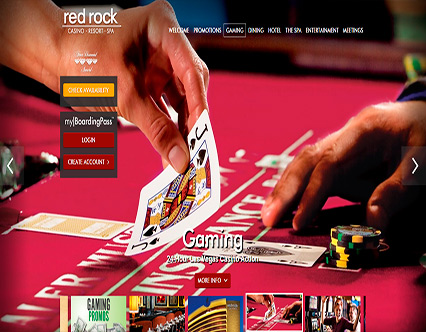 Site:
https://redrock.sclv.com/
Casino games:
slots, video poker, table games, race and sports book, bingo
Entertainment:
Bowling Rocks Lounge, golf club, bowling
Amenities:
pool, spa-center
Book now
Red Rock Casino – Test Your Fortune
Its spectacular casino offers breathtaking amount of games. There are more than 3000 slot and video poker machines. Table games include such famous ones as roulette, blackjack, baccarat and craps. A distinct feature of Red Rock Hotel & Casino is so-called Race and Sports Book. It consists of screens with sits in front of them. So you won't miss any important sport event! It also gives you ability to bet on your favorite game.
Amenities And Entertainment
A wide range of entertainments is available for each visitor. Bowling Rocks Lounge offers live music concert almost every night. It's a perfect place to relax with plenty of space to dance. On the territory of Red Rock hotel Las Vegas fans of active rest may also visit bowling and golf clubs. Those who prefer quiet relax will certainly like immense pools and a modern spa-center with high-technology equipment. Kids can spend wonderful time at Kids Quest Park – solve thrilling tasks and meet their agemates.
Dining: Bars, Restaurants, Bistros
Both admirers of fine dining and those who love simple but delicious food can find something interesting here. There are five restaurants with international gourmet cuisine. It is worth visiting T-Bones Chophouse to try the best steak in Vegas. If you are looking for a buffet, then choose Las Vegas Buffet with its wide range of meat snacks. Interesting fact – it was marked as a Top Buffet of 2015. Casual dining with low prices is represented by eight cafes and Red Rock hotel restaurants offering cuisine from all over the world. Fans of fastfood and street food can visit points of quick eat and taste hamburgers and French fries. Of course, nobody forgot about sweet teeth: at Red Rock Bakery you can try the most delicious self-made cakes and muffins represented in wide range of flavors.
Everything For A Good Rest
You can find a wide assortment of rooms satisfying any taste or budget. Deluxe King are spacious rooms with all modern commodities and breathtaking views on the night city. Deluxe Double King has a size of about 515-615 sq.ft and is designed in modern manner, offering you a view on Red Rock Canyon. For those who need more space huge villas up to 4 000 sq.ft size are available. There are also eight penthouses with panoramic views which won't certainly leave you unmoved.
This luxurious place is certainly worth the attention of both gamblers and admirers of luxury. It has amenities and entertainment programs to satisfy every taste and combines convenience and beauty. It's hardto find as suitable place as this hotel conduct a business meeting or spend cozy family weekend. Red Rock hotel rooms can satisfy even the high-fed clients. Both children and adults will find activities to their liking. Choose this resort and you will likely spend there magnificent time you will never forget.