Hotel Mazagan - Morocco Must-Visit Spot
At the Atlantic Ocean shore wonderful oasis is spread out – Mazagan Beach Resort and Casino. It is the magical place where kids and adults can plunge into the adventures and rest world. This 5 stars hotel united all desirable excitements from spa-salons to horseback riding, kids clubs and discos, exciting shopping, casino and golf-playing. Picturesque sights and fascinating climate all year long will make its contribution to your unforgettable rest.
Light up Your Lucky Star At Casablanca
Hazardous gaming world tempts numerous visitors of Mazagan casino – posh, luxury and the most famous casino in Morocco. Wide range of slot machines (more than 467), Baccarat, table games, Punto Banco and Poker – all of it is represented at the hotel casino. If noisy atmosphere bothers you, you can arrange private game rooms to enjoy your gaming.
In Mazagan resort Morocco casino hosts Poker tournaments (all its schedules are placed at the main site), makes special offers, concerts and various entertainments due to these occasions. There are 60 gaming tables for table games waiting for you and your company to make your rest the most remarkable and lucrative. Numerous games among which are English Roulette, Punto Banco, Black Jack Bonus and others are available until early morning.
Special Fariss cards given you by Fariss club have its benefits helping you enjoy your rest at the casino to the full extent. During gaming special points are deposited to the card and it's possible to pay off for other services with it, get some discounts and promotions.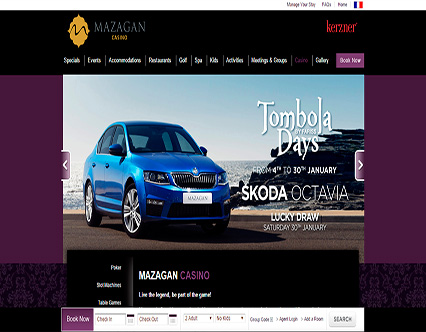 Site:
www.mazaganbeachresort.com
Casino games:
Slot machines, poker, table games: English Roulette, Blackjack, Baccarat, Punto Banco, etc.
Entertainment:
The Stage At Jockey Club, Ladies Night, Alias Nightclub,
Amenities:
Hammam, Spa Treatments, Beauty Salon, Fitness Center, Opaline Circle
Hotel:
500 rooms and suites
Book now
Explore New World Of Adventurous Activities
Enchanting Eastern atmosphere, magnificent architecture, qualified and thoughtful staff, numerous activities and options for active rest and leisure – it all will make your time at the Mazagan Hotel of Morocco unforgettable and significant.
Entertainment for all visitors – kids and adults – are presented here. Your children will feel happy playing with other kids at Special Clubs due to their age group. If you plan a trip, you can book a baby-sitter in advance and enjoy fully your romantic rest with your beloved one. Golf is calling card for this resort. Projected by famous Gary Player 2 fields with 18 holes cover enormous territory of valleys, dunes and beach line and promise exciting game for everybody longing it – from newbie to avid professionals.
If you feel tired of all life routine and noise, spa salon and hammam are the best places for your rest at the hotel. These services always take special place in Mazagan Beach resort reviews as you will reach the highest point of relaxation and unite with harmony there. Fitness center and Beauty Salon will make you feel the beauty and believe that it can save the world. Unique techniques, special oils and muds are used at Spa Services. In addition, Opaline Circle offers membership with wide range of benefits displayed at the Spa Salon site.
A lot of swimming pools, breathtaking 7 kilometers beachline, active sport-time and leisure, shopping and posh rest at the nightclub – all these entertainments await for hotel guests and visitors. Grand Riad swimming pool, pool for kids and water sports, tennis, karting, horseback riding – this is just a short list of all activities for you and your children at the most marvelous hotel in Morocco.
Enchanting Meals Melting In Mouth
Delicious meals from entire world cooked by masters melt in your mouth. All specialties from famous cuisines are gathered in 8 restaurants in Mazagan Beach resort to amaze you with its impeccable flavor and wonderful representation.
Jin-Ja is new extraordinary sushi-bar with charming atmosphere and tasty unique meals. Sel De Mer presents dainty sea-food dishes and relaxing atmosphere in blue colors. Feel wonderful ocean scent and imagine as if its warm waves are swaying you to your dreams. Live music is always there to please you with charming melodies and songs.
Elegant French cuisine is represented by Fauchon café – numerous pastries and desserts are calling card for is place.
Royal Stay At Special Apartments
Hotel Mazagan presents various accommodations from rooms and suites to private villas. Luxurious apartments with breathtaking view on ocean or hotel gardens and swimming pools will make your stay at this magic place memorable.
Pay for all-inclusive accommodation and you will get access to all hotel benefits starting from choosing delicacies from world famous cuisines and ending up with admittance to all activities on hotel territory.
There are 490 rooms and suits. Rooms with fascinating and picturesque views have amazing all day long services, all necessary accommodations such as safe, TV, free Internet and French Balcony. To learn more and see tempting photos choose any variant of Pool View or Partial Ocean View at the main site and see its fairy-tale design in luxurious Moroccan style. Attractive Mazagan Beach Resort all inclusive package is also described there.
Posh suites have incredible floor space in range from 82 square meters up to 342 square meters. See its royal variety and pick up the best for you and your company.
As about private villas, it will give you full sense of intimacy and memorable rest at the Atlantic Ocean shore. You can enjoy sunny day swimming in your own pool or walking in Eden Garden… At this place everything is possible.
Arrange Your Trip Right Now
Use "Book now" line at the main site to see all available variants for your magic trip to the most luxurious hotel at the Morocco. You will be pleased by your memorable rest and will return there a lot of times, because this is truly the place where all dreams come true.