Marina Bay Sands - Restaurants, Leisure, Accommodations
Inspired by pack of playing cards Moshe Safdi designed the most outstanding and luxurious Singapore hotel and casino in the whole world – Marina Bay Sands Resort. Three towers united on its top with the Sands Skypark and its famous Infinity Pool promise the most exciting rest in your life offering numerous activities, posh rooms, wonderful gardens, exclusive restaurants, casino, theatres, skating rink and other entertainments meeting even the most avid critics' demands.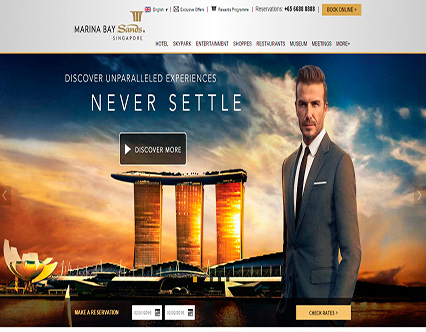 Casino games:
More than 250 slots titles, Baccarat, Roulette, Blackjack, Poker, Craps, Sic Bo
Entertainment:
Cirque Eloize, Star Wars And Beyond, Rooftop Bars, Singapore Nightlife Guide
Amenities:
Banyan Tree Spa, Club 555, Hotel Gift Shop& Sky Park Shop
Book now
Real Posh Is What You See Here
Declared as the most expensive in the entire world casino property The Casino in Marina Bay offers wide range of slot and table games placed at the 3 gaming casino floors. There are more than 2300 slot machines and over 350 table games. You will find there numerous entertainments and spend your time with pleasure and profit. Three noodle bars serve their outstanding traditional Asian dishes and please gamers with unique specialties from China, Burma, Thailand and other countries cuisines.
Casino represents only the newest and best games for their visitors. Among table games are such famous ones as BlackJack, Roulette, Baccarat, Sic Bo, Double Zero Roulette, Pontoon and others. Moreover, more than 200 games are available at High Limit, Ruby and Paiza areas on the upper floors of Sands casino in Singapore.
Return your money as Sands Rewards Club member while playing, keep bonuses (Sands Points, Dollars and Bonus Dollars) and use it for shopping and other activities at the hotel. All Benefits and Privileges are depicted at the casino site.
Singapore From Bird's Eye View
Feel yourself at world roof with all activities and luxurious accommodations. Amazing Skypark tempts numerous visitors with its uniqueness: swim in the best and extraordinary swimming pool on the hotel roof shaped as giant gondola and drink delicious cocktail lying on the lounger and sunbathing in the bright and warm rays of Singapore Sun. You will definitely never find the same view as on the top of this 57 floors hotel! Observation Deck at the Marina Bay will open for you all Singapore shining glory; you will see it with a bird's eye view and have a feeling as if you are floating through the heavens over this magnificent town.
A lot of social events and concerts, awards take place at Marina Bay Sands hotel casino. Events schedules constantly changes at the main site, showing the top list of thighs worth seeing this month there.
After long day full of shopping, adventures at the skating-rink or swimming in the most exciting swimming pool, it's worth visiting magnificent and famous show – Wonder Full&Light Water Show.
To paint your nightlife with all rainbow colors 24 nightclubs and bars are presented. Taste wonderful wines, exclusive cocktails and feel the whole town rhythm dancing on the hotel roof, or enjoy pleasant atmosphere of lounge bars.
Two MasterCard Theatres host Broadway artists, well-known performances and wonderful shows.
Traditional Cuisine And Meals Right Off The Stove
Modern Asian, Local, Chinese, Italian, French, Japanese, Halal cuisine, Café, a lot of Chef Celebrities and others are gathered at the Marina Bay Sands Restaurants and casual dining establishments. So, you will be definitely amazed by its variety and Chef Celebrities working there.
Adrift by David Mayers present the best dishes from the Californian-Izakaya cuisine. All meals look like real masterpieces from seafood up to grilled meat and amaze visitors with its unique and mouth-watering taste.
If you would like to taste French cuisine, you definitely need to visit db Bistro&Oyster Bar. Try classic French Onion Soup and melting in your mouth oyster. In addition, you will be completely amazed with dishes decoration.
Hide Yamamoto, Sen of Japan, Bay Sushi present Japanese cuisine delicacies and serve amazing sushi.
Discover for yourself local meals with Toast Box, Rasapura Masters and 1983 Taste of Nanyang. Drink traditional Nanyang Coffe and taste Curry Chicken, Mee Rebus or Nasi Lemak.
How To Bring The Dream Into Reality
Posh rooms and exclusive suites are welcoming all visitors with its glory and comfort. Picturesque view opens from each room bewitching everybody staying at the hotel. 24-hours room service will make your rest as pleasant as possible, so just relax and enjoy numerous activities and adventures presented at the hotel.
There are different kinds of rooms and suites. Learn about Marina Bay Sands hotel price per night online, choose the most suitable for you and your company and use its numerous advantages. Press "Book on-line" button to start your magic trip right now. Booking directly you get some benefits as discounts to spa or museums and so on. All Hot-offers and promotions are displayed at the starting hotel page, so don't miss a chance to make your holidays full of adventures and high-class rest!
Your Memory Will Print It For Years
Marina Bay Sands waits for everybody longing to rest and make a lot of fun, experience unbelievable swimming at the Infinity Pool and making the bank at the Casino, try to become master at artistic skating and relax at numerous nightclubs and bars tasting exclusive local and all kinds of world famous dishes.