Horseshoe Casino and Hotel review
Horseshoe Casino Hotel is an outstanding Louisiana resort operated by Caesars Entertainment. Designed in Western style it combines 606 room hotel, Riverboat Casino, dining zone oriented on various cuisine and interior concepts and recognizable entertaining events.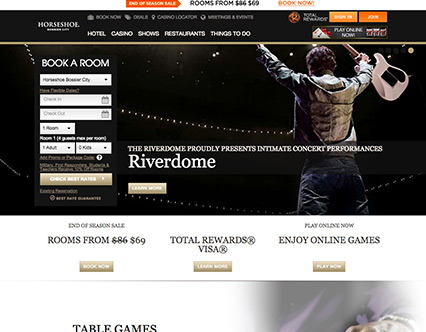 Site:
horseshoebossiercity.com
Casino games:
slots, blackjack, poker, roulette, craps
Entertainment:
The Riverdome, Whiskey Roadhouse
Amenities:
Pool, Spa, Shopping
Book now
Horseshoe Hotel Casino gaming options strike by their diversity offering nearly 60 table games, 14 poker tables, 1500 slots and 400 video poker machines.
All the newest slots with variable limits are presented in Horseshoe Casino along with progressive enhancing the win. Video Poker machines are also presented in a number of types like Anything`s Wild, Spin Poker Delux, Double Double Bonus Poker Progressive.
Horseshoe Poker events whether it is regular poker round or weekly tournament are the most authoritative in the state. Luxurious 14 table floor decoration with services included turn the game into process of pleasure and creativity.
Horseshoe 68 table games compilation certainly serves gamers` preferences and mettle. Legendary Blackjack is played here with up to $25 000 limits, Craps odds are set to 100×. Roulette, Mississippi Stud, Let it Ride and Three Card Poker and other games entertain visitors in its best.
Horseshoe offers casino credit system for convenient fund management.
Total Rewards Visa promotional card suggests to get 10 000 reward credits while Fuel Rewards Program let the customer spend less on fuel.
For more details check Horseshoe Bossier City site casino promotions section.
Dining and Entertainment
The Riverdome is Horseshoe Bossier City main concert hall and place where Horseshoe nightlife starts. In The Riverdome the most remarkable shows are performed as it is a scene for world known Stars` concerts. Such famous country singers as Moe Bandy, Don Williams and Bill Anderson entertain the audience up to the end of 2015.
Whiskey Roadhouse is a perfect place for nighttime rest. Its atmosphere is easier and less solemn but you can spend here a good time listening to local and regional bands concerts and watching spectacular shows of different themes and genres.
Dining in Horseshoe Bossier City is a special ritual performed in restaurants and cafes of upscale, casual and buffet types.
Jack Binion`s Steakhouse gained its popularity for professional preparation of sophisticated delicious menu items served with splendor. Six beef dishes offered USDA Aged Beef menu section along with seven Specialties House positions included Herb-Crusted Rack of Lamb, Seard Pork Chop and others dispel all possible doubts about restaurant`s class and authority.
Four Winds is Asian upscale Horseshoe restaurant inspired by Vietnamese, Cantonese, Mandarin, Thai and Szehcwan cuisines. Four Winds menu consisted of four pages is the biggest in Bossier City and includes pork, beef, vegetable, rice& noodle dishes, fresh seafood put in unusual Oriental recipes.
Casual Dining is represented in Jasmine`s Noodle Bar and 8 Oz. Burger Bar. Focused on different customers and cuisine types they have too many specials from Asian and Burger menu to offer.
At The Spread Buffet you can choose between seven specialty stations and large food genres to have breakfast, lunch, dinner or Sunday brunch. You can measure your portion by your own while trying daily renewed dinner menu.
Horseshoe Tower Hotel Amenities
The Hotel occupies 24 story Tower and includes 606 posh suites covering any demands and requirements.
Premium King Room has breathtaking city views, one big sized bed and room space of 600 square feet. Among room amenities are refrigerator, hair drier, cozy bedclothes.
Luxury King Room stands out by its modern design created by wooden room dressing and marble bathroom elements. This room has all necessary amenities like hairdryer, coffee maker, fridge, bed and bed clothing made exclusively for Horseshoe. Luxury 2 Queens has nearly the same amenities with two comfortable beds.
Hotel guests have several entertainment sceneries. Visitors above 21 can enjoy Horseshoe Dare Pool with special amenities like separated Cabanas and cocktail menu.
Spa offers wide range of facial and body therapy treatments. Fitness centre will keep you fit while Horseshoe Salon based on SPA territory creates the best look for your hair and nails.
Shopping centre has lots of luxury stores and boutiques with clothing and accessories from the world famous designers. One can also buy special gifts and souvenirs at The Gift Horse Louisiana Boardwalk.