Cascades Casino Resort - South Africa Gambling Destination
A splendid Sun City resort complex Cascades Casino Hotel is situated in South Africa. It was opened in 1983, but still attracts visitors from all over the world. Cascades Hotel is only a part of it, but a very considerable one. It is really huge – about 245 rooms, surrounded by beautiful lakes, pools and fountains. It appears that you found yourself in a tropical paradise somewhere in the middle of the desert.
Ideal Find For Gamblers
Casino floor is the main point of interest in Cascades Casino Resort. It is really worth visiting and see huge light halls, mirrors, feel the luxurious atmosphere of Las Vegas. For convenience of gamblers it is divided in two zones for smokers and non-smokers. Of course, a wide range of games is offered. You can find regular slot machines along with table games, such as roulette and cards– 43 kinds in total. Cascades casino poker room is always full of players of different skills and levels. Do you like this game best of all? Come here, you`ll definitely like this place. The floor works 24 hours a day, so you are able to play any time you want and as much as you like.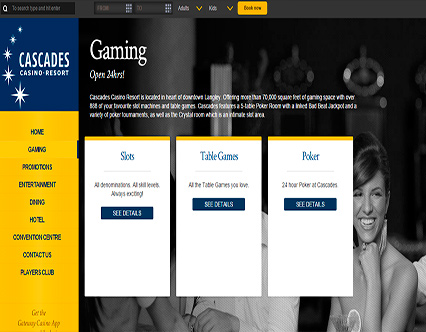 Site:
http://www.cascadescasino.ca/
Casino games:
Slots, Blackjack, Baccarat, Roulette, Poker: Double Deck Blackjack, Squeeze Baccarat, Touch Bet Roulette, 10+ poker types.
Entertainment:
ABRA Cadabra, The Lonely, A Night Of Bowie, Elvise Elite
Amenities:
Gary Player Golf Course, Spa, Swimming Pool, Fitness, Lounges
Book now
Entertain With Taste
Of course, it`s impossible to imagine the place like this without upscale entertainments both for adults and children. The Cascades Sun City Resort has two water parks on its territory – one of them is dedicated to various kinds of slides, another one is meant for those who love extreme water sports and thrilling adventures – try water-ski, wakeboard and other activities!
On the territory of the hotel work experienced baby-sitters to look after little children. For kids aged 5-12 there are also lots of things to do! They can visit Camp Kuena and spend time on fresh air. Or it is possible to ride a cute Stimela train, which passes all points of interest in Sun City Cascades hotel. Those who are fond of competitive games can try Bumper Boats. The aim of it to bump a neighbor boat and it is exciting both for kids and their parents. Children can visit an Animal Farm or a unique Kawabonga Club for those who are under eighteen. There is no need to worry – no alcohol is offered on bar.
Fine Dining For Welcome Guests
There are four restaurants offering different kinds of food for any taste, if you are first time visitor of Cascades Hotel and casino mark them as your must-visit places:
The Peninsula serves international food and is remarkable for its cozy atmosphere and a stunning view on the lake.
Santorini is situated near a swimming pool. You can try Mediterranean cuisine cooked from fresh local ingredients.
Enjoy a cocktail or two in Luma Bar & Lounge. Tasty snacks are included.
The Gary Player is a perfect place to have a breakfast or lunch in the family circle.
Suits And Rooms Overview
All the rooms are equipped with all conveniences: air-conditioning, free WiFi, plasma TV, minibar, coffee-machine and separate bathroom. Get acquainted with the list below and decide in what kind of apartments you want to stay, remember that Sun City Cascades hotel bookings are available online!
Flamingo Suite consists of 2 bedrooms and bathrooms and a little kitchen.
Garden Suite offers 1 bedroom, a large dining and lounge territory, a pool and jacuzzi.
Superior Luxury Room with a huge bed and a separate shower and bath is the most expensive one. Luxury Suite has an additional Balcony.
Other kinds of rooms are available upon request.
In general, Cascades Resort in Sun City is a perfect place to have a rest in a family circle. Each member of the family can find an entertainment to his liking, and we may say one thing for sure – no one will be bored!