Buffalo Bills Hotel Las Vegas — Reservations & Review
Buffalo Bills casino hotel is designed in a Old West style and situated in Primm, Nevada. Next to the hotel there is an Amusement Park – it means that you can spend your vacations with children and have a thrilling pastime. This place was founded in 1994 and in 2010 was renovated for the third time. That is why all rooms have modern air-conditioning, they are comfortable and include all the required amenities, like in other Vegas resort - Treasure Island hotel and casino.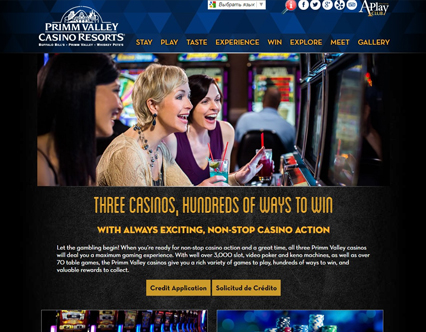 Site:
http://primmvalleyresorts.com/
Casino games:
slots, blackjack, roulette, craps, let it ride
Entertainment:
Maxflight cyber coaster, Road Froster, Star of the Desert Arena
Amenities:
pool, spa-center, jakuzzi
Book now
Gambler's Paradise
The main area of casino is 61,372 square foot, where 1,723 slot games and 39 gaming tables are located. Blackjack, roulette, craps, Let It Ride and different kinds of poker are offered for gamblers. This is a valuable part of Buffalo Bills hotel and casino and it looks rather terrific. You have a possibility just to walk around and choose desired slot machine to spend your time with benefit.
Relax And Have Some Fun
Nearby the hotel you can see an old-fashioned car of Bonnie and Clyde, visit such family attractions as roller coaster, wide golf territory with lake, arcade zone etc. For example Road Froster is an amusement for kids which is based on free-falling principle. Maxflight cyber coaster is the one for most risky guests with steep turns etc.
Buffalo's Bill is the nice place to fuel up on a long way to Las Vegas or California Desert. Territory of Buffalo Bill Las Vegas hotel includes charging stations, quick snacks as well as lounge cafes and bars with game zone. There is a famous Star of the Desert Arena – this music hall seats 6,500 spectators. It is a terrific place where celebrities perform. For example Rodney Carrington or Gary Allan – its frequent guests - have many surprises for the visitors, so be ready for something really cool.
Tasty Adventures
Buffalo Bill's Food Court consists of six cafes and restaurants as McDonald's, Panda Express etc. Denny's is the most popular one; there you can have a meal during the whole day, even at night, because it works 24/7. Miss Ashley's Buffet is open every day and proposes you homemade food. La Salsa Mexican Grill offers you appetizing burritos, also there are Starbucks, Subway, IHOP Buffalo Bills restaurant serves tasty pancakes, and you definitely should try them.
Bare Essentials
1,242 rooms with enough amenities are offered to visitors. They are divided into two kinds, so it's quite easy to make a choice.
Deluxe Room which contains one king size bed;
Deluxe Room with two queen size beds.
Each room has free Wi-Fi, iron, full bath or half bath, hair dryer, phone, television etc. There is one enormous advantage – you are allowed to take pets with you, but this rule touches only upon dogs. If you travel with your pet and need to spend the night, Buffalo Bill's Hotel Primm is exactly for you. For one dog you should pay 20$ which are added to Buffalo Bills hotel prices payed per night.
Also family rooms are available. Hotel has outdoor seasonal swimming pool, 2 Jacuzzi, Spa service, free self parking, the front desk works 24/7, elevator, accessible shower, breakfast for additional fee etc are also offered.
Turndown service is also a small pleasant bonus for people who are tired from long way. Safe on the reception is also available – if you are unwilling to keep valuable things in your room, it is possible to left them here.
Don't hesitate to book a number in Buffalo Bill's hotel Las Vegas – reservations are available on our website. It' s a perfect place to stay for a night during a long journey. Rooms cost rather cheap from 34.99 dollars, the price increases during the weekends and holidays.