Aria Hotel And Casino – Largest Vegas Resort Ever
An example of luxurious style, Aria Hotel and Casino is situated in the middle of Las Vegas and is considered as a part of entertaining complex named CityCenter nearby Las Vegas Stip. It maintains two huge buildings, one of them has 61 floor and another 51. We also recommend to pay your attention at Bellagio Hotel and Casino - another splendid resort in this city.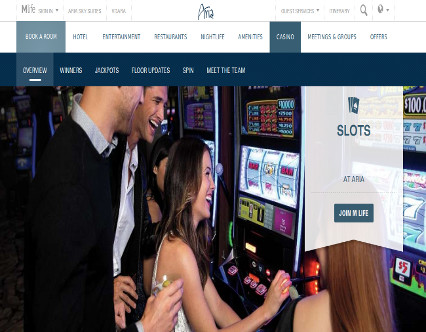 Casino games:
slot machines, table games
Entertainment:
four night clubs
Amenities:
pool, spa-center
Book now
Embarrassment of Riches
This is a five-star hotel with more than four thousand rooms having splendid views and best conditions for a comfortable rest. Las Vegas is well-known by its casinos, so this hotel is not an exception. CityCenter holds only one casino, but an enormous abundance of slots, roulettes etc offered will blow you away. For example in Aria Resort And Casino Las Vegas you can find the latest modern and the oldest classic slot machines as Dragon Spin, Heavenly Riches. Moreover there is a special room to play slots named "Spin High Limit Room". Different table games as Roulette, Baccarat, Blackjack, different types of Poker and many others are represented in casino hall. Also there is a wall with enormous HD screens where you can watch any games or races.
Time to Chill Out
Aria offers conference center consisting of three floors, where you can find four dancing rooms and 38 rooms to hold meetings. There are four night clubs (one of them is a famous HAZE) where different popular DJs and of course famous showmen as Billy Joel, Keith Urban etc perform. By the way Cirque du Soleil is a frequent guest in Gold Lounge.
A Centre of Beauty and Spa takes place on two floors disposing 62 rooms for medical procedures, sauna, stone therapy, salt spa therapy room Shio, different kinds of massages and many other spa and beauty procedures.
Also Aria Las Vegas Pool and a fitness-center with modern equipment are offered here.
Tasty Facts
The most pleasant and delicious point of the journey will be restaurants and cafes. Hotel arranges 16 restaurants and 10 bars. There you can try Asian, French, Mexican, American, Italian and Spanish cuisines. Also you can find not so luxurious places to have a cup of coffee with tasty desserts.
In Aria Las Vegas restaurants are represented by such eating houses as:
Barmasa – try here modern Japanese cuisine "a la carte". It's opened for dinning from Wednesday to Sunday 17:00-23:00;
Jullian Serrano – a restaurant with Spanish cuisine is opened every day 11:30-23:00;
Blossom – traditional Chinese cuisine, it also proposes you dinning everyday 17:30-23:00;
Skybox Sports Bar and Grill – for fans of American cuisine, even more there you can watch football, baseball, tennis and other transmissions everyday from 11:00 to 22:30;
Breeze Cafe, Jean Philippe Patisserie, Sweet Chill propose you snacks, ice-creams, deserts, cocktails, coffee, tea etc.
Don't Get Lost In Aria Suites Las Vegas
Hotel includes 4004 rooms, more than 500 of which are de luxe. Also there are special Sky Suits with personal elevators, entrances and if you book this number, a limousine will meet you at the airport. Now let's describe more precisely proposed Aria hotel rooms and their price per one night stay:
Deluxe King Room is 520 sq. f., offering panoramic corner view, one king-size bed, one bathroom for 250 dollars;
Deluxe Queen Room is the same size as previous one but with 2 queen-size beds for 286 dollars;
Deluxe Strip View costs 304 dollars and has an amazing view on CityCentre and Las Vegas Strip proposing the same amenities as two rooms above;
Deluxe Strip View for 340 dollars, has two huge beds;
Tower Suit Strip View is 1,000 sq. f.; proposes fantastic features such as stone shower, mini-bar, television, housekeeping twice a day and one pleasant surprise named goodnight button - with one touch your room falls down into the night. So easy and comfortable, isn't it?
Corner Aria Suits Las Vegas with Panoramic View / Centre Suit Strip View / Crystals Suit Strip View for 608 dollars with 920 / 1,075 / 1,000 sq. f.; these suits are famous for amazing view on the mountains, CityCenter or shops.
Executive Hospitality Suit for 630$ proposes you 2,000 sq. f. space with private room for meetings;
One bedroom Aria Suit costs 675$; 1050 sq. f.; maintains a living room, a concierge etc;
One bedroom Penthouse with Mountains View for 720 dollars, 1,050 sq. f.; has splendid spa bathroom and other specific commodities.
One bedroom Penthouse with the view on Las Vegas Strip costs 765$ having 1,465 sq. f., amenities will more than impress you.
There may be found special rooms with accessible features. Aria Casino Resort is among the largest ones in the world and achieved a certificate from the organization The Leadership in Energy and Environmental Design. By the way this hotel is the is on the top of high-tech, because everything in the rooms is automatized. It is really worth seeing.